Reconstruction of Hotel van der Valk
During reconstruction of the main hotel building, which had partially burned down in January 2016, a great deal of attention was paid to sustainability. The new building, which includes a kitchen and restaurant, is about 30 per cent more energy efficient than required by current legislation.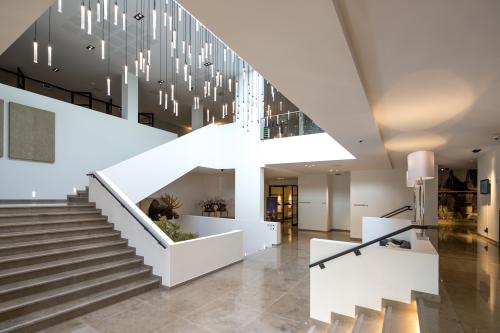 Project properties
Project name
Reconstruction of Hotel van der Valk
Architect
P.A.M. Theunissen Architectenburo BV
Engineering
Ingenieursbureau Palte BV
Roof as an important factor
The roof of the new main building plays a key role in making the construction sustainable. Rainwater, for instance, is kept separate from sewer water and flows into the valley of Geleen. In addition, a green rooftop terrace has been constructed and 312 solar panels have been installed on the hotel's existing roof.
Precast concrete units
The shell of the building, comprising approx. 6,800 m2 in three layers, is entirely made of precast concrete units. All the façades have been fitted with aluminium curtain walls in combination with wooden carpentry and a distinctive facing brick. The entrance has been completely renovated too. The new restaurant with its large conservatory opened in October 2017.